Rider's E-Novation presents 
3DMS

: the 1st connected and autonomous electronic device which is able to measure

your riding skills on a

 two-wheeled vehicle

on track and on road

.
12 TOP REASONS FOR PURCHASING THE 3DMS:
This device is cheaper than a basic laptimer and provides more features: lean angle of the motorbike, speed, braking and acceleration forces and trajectories
Easy to use and install
Already more than 600 bikers have been using it since June 2016
No need to physically connect your 3DMS because it works in Bluetooth (wireless)
Documentation, service and software are available in English
Thanks to its external antenna, which is bigger and mounted far from the rider, GPS reception with a 3DMS is better than others laptimers. Timings and recorded paths are therefore more accurate
It can be mounted under the fairing (except the control button and the display) to be better protected in case of a crash
You can ride without a screen on your bike (like a real data acquisition)
You can use new 3DMS Display to see datas while riding: timing, speed, braking and acceleration forces, lean angle
No need to recharge your 3DMS because it is connected to the motorbike battery (only 30mA under 12V)
All european motorcycle tracks are available. You can create your own tracks too
3DMS Manager software runs on Windows 7, 8 and 10
UNPACK, INSTALL AND CALIBRATE YOUR 3DMS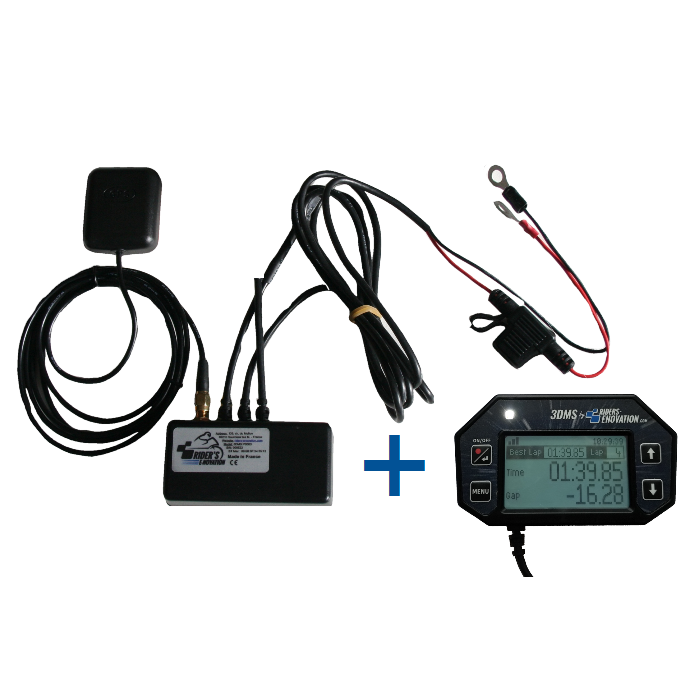 What's in the box :
the main electronic box, which can be mounted under the fairing and is connected to the motorbike battery,
a control cable with a luminous push button or the new 3DMS Display if you choose the pack 3DMS+Display,
an external GPS antenna,
an installation guide.
After you mount 3DMS on your vehicle, you need to calibrate your 3DMS, just one time.
MEASURE YOUR RIDING SKILLS
Now equipped with your 3DMS, you can record any riding session on track or on road.
Thanks to its embedded GPS and six-axes sensor (gyrometer and accelerometer), your 3DMS measures and records:
– the lean angle of the motorbike,
– acceleration and deceleration,
– position on the map
– real speed
– trajectories
– lap timing by GPS (and magnetic sensor in option).
MASTER ITS IN REAL TIME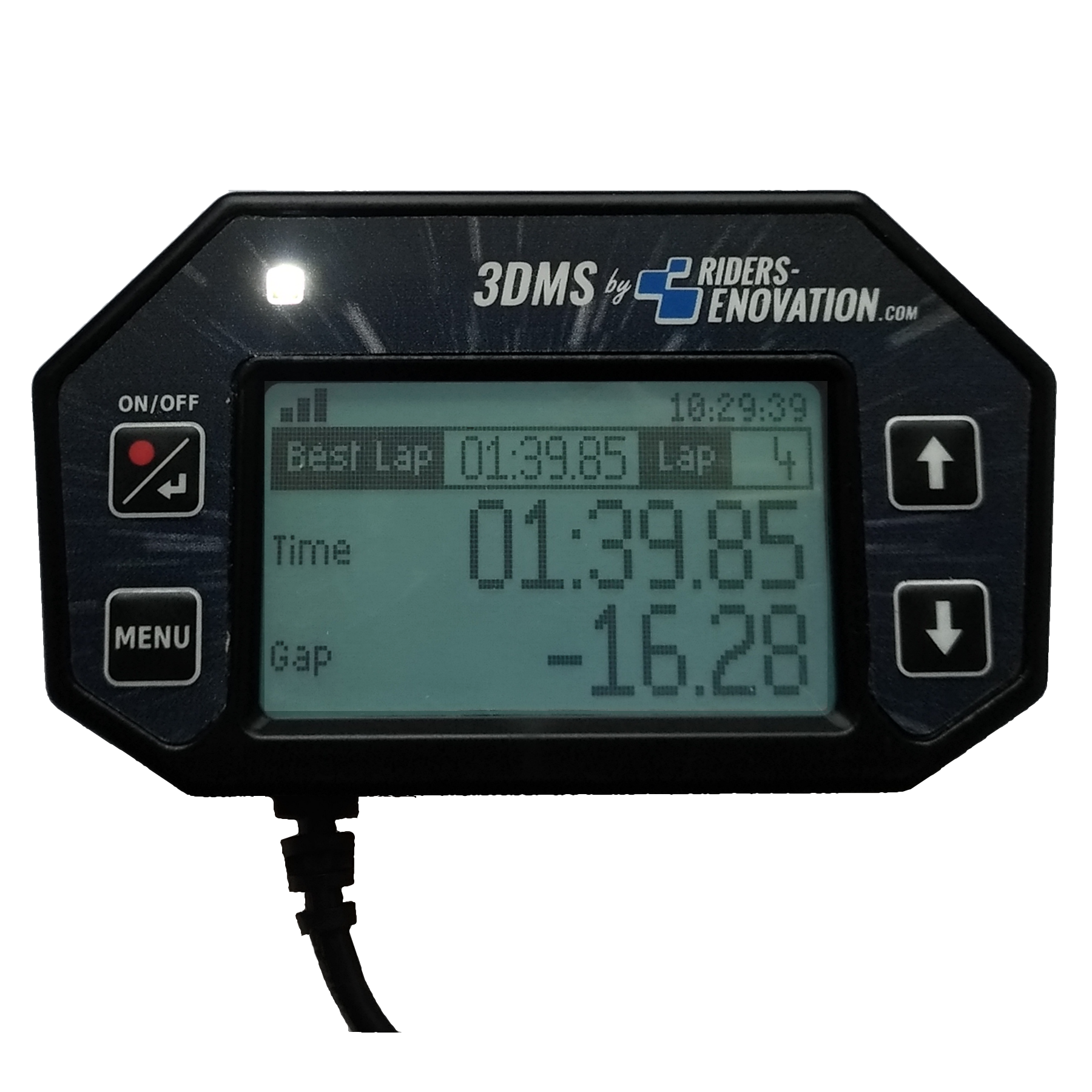 The new 3DMS Display allows you to visualise your best lap and last lap timing, the lean angle of your vehicle, its speed, its acceleration and deceleration/braking forces in real time.
A LED flashs when you improve your lap timing.
Display software interface is now available in English, Spanish and French.
You can also:
Select the nearest track easily
Calibrate your 3DMS
Start and stop 3DMS data records
DOWNLOAD AND ANALYSE YOUR RIDING SESSION
With 3DMS Manager software you can connect your 3DMS to a Windows device and download your datas.
Its Data Perf' interface allows you to visualize after riding:
– your timings by magnetic sensor or GPS (*): lap times, lap record, best sections, optimum time and top speed,
– your trajectory: the acceleration phases in green, the deceleration and braking phases in red and the neutral phases in black,
– your performance informations (time, speed, acceleration/deceleration, lean angle) depending on the cursor position on your path.
Its Track Manager interface allows you to:
access to more than 100 circuits already provided by the 3DMS Manager app (see the complete list here),
edit maps characteristics: track width, map orientation, positions and number of intermediates, magnetic tapes.
create your own maps from a circuit drawn with Google Earth (**) or from a recording made with your 3DMS.
VIEW AND SHARE IT WITH YOUR FRIENDS
Video Perf' interface allows you to:
– combine and synchronise a 3DMS recording with a video made with any sports camera available on the market,
– overlay your lean angle, acceleration, deceleration/braking, speed measurements and your position on the map,
– record your video with the overlayed measurements and share it.
3DMS TECHNICAL SPECIFICATIONS
Size: Dimensions : Main box 80*40*20mmn, GPS antenna 42*38*13mm and Display 98*56*20mm
Power requirements: 12Vdc (vehicle battery)
ON consumption: 30mA (60mA with display)
OFF consumption: 220μA
3DMS protection class: IP54
3DMS Display protection class: IPx5
Wireless interface: Bluetooth 4.1 Smart Ready
Storage memory: >=1GB
Maximum number of recordings stored in the 3DMS: 50
Maximum number of recordings on the PC: no limit set by the provided software
Time resolution: 1/100 s
Acceleration measurement range: -4g / +4g
Angle measurement range: -90° / +90° (we hope you won't need the entire range ;))
GPS antenna: external
GPS frequency: 10Hz
GPS maximum speed: up to 999 km/h
Compatibility: Bluetooth >=2.1, Windows 7, 8 or 10
(*) Timing by magnetic sensor is possible only if 3DMS is equipped with an optional magnetic sensor.
(**) Google Earth is a software owned by Google.